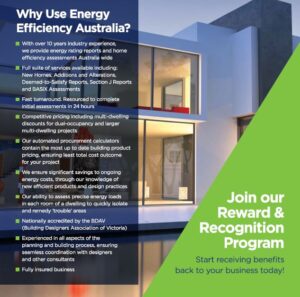 Description
We provide high quality yet competitively priced energy rating assessment and consultation services to home owners, architects and builders.
If you are planning to build or renovate, you will need permission from your state building authority and obtain a building permit. Part of this process involves obtaining an energy rating report including certification from an accredited Thermal Performance Assessor.
We provide energy efficiency assessments and reporting which ensure you obtain a building permit and a cost effective home with the right energy efficiency measures.
Business Offers:
Mention you are associated with SBA to receive a 10% discount.