2020 SBA Community Coaching Courses:
Community Coaching Courses are delivered through SBA Head Coaches Simon Giovannoni and Nathan Crosswell and are ideal for anyone new to coaching in the SBA domestic competitonss
The courses are held at St. Leonard's College, South Road, Brighton East and typically run from 12 noon – 2.00pm or 11.00am – 1.00pm.
The cost for the course is $50. This includes:
Access to the SBA Coaches Website;
Coaches Pack including a Whistle, SBA Ball, Bag, Coaches Pad, SBA Domestic Drill Book, a Level 0 Card and Certificate;
2020 Dates:
Sunday the 19th of April Click here to register
Sunday the 21st of June
Sunday the 30th of August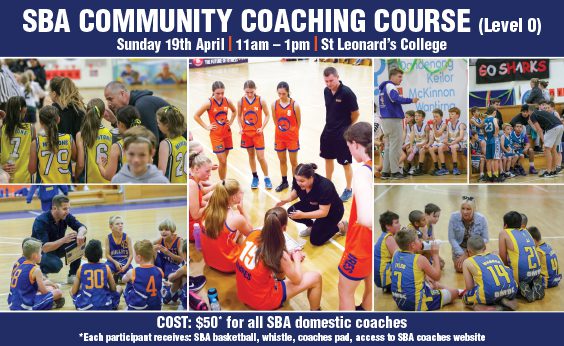 2020 Club Coaching Courses:
Club Coaching Courses (old Level 1 course) are delivered through Basketball Victoria. The practical component of the Club Coaching Course will be held over two days at St. Leonards College, South Road, Brighton East.
Both sessions will begin at 12:00pm and finish at 3:00pm.
Click Here to be re-directed to the Basketball Victoria website for more information
2020 Dates:
Sunday May 3rd & Sunday May 17th: 12:00pm – 3:00pm
Sunday August 16th & Sunday August 23rd: 12:00pm – 3:00pm
Sunday November 15th & Sunday November 22nd: 12:00pm – 3:00pm
2020 Coaches Expression of Interest
The SBA is seeking applications from suitably qualified coaches to join the ranks of their representative coaching team.
To register your interest please refer to the attached Rep Coach & Assistant Coach Selection Policy, complete the attached 'Expression of Interest Form' and return to either:
Boys Coaches – nathan@southernbasketball.com.au
Girls Coaches – simon@southernbasketball.com.au
EOI for the 2020 VJBL season will close on Monday the 9th of September.
Coaching Policies & Website
By clicking the below you can review each policy in detail:
Coaching Library
The SBA has many books and DVDs in its library. Check back here to see the list of what's available to borrow.
Check back here to learn of new coaching notifications.
In the meantime, if you have any coaching queries, please contact either the Head Men's (Boy's) Coach or Head Women's (Girls's) Coach on (03) 9583 4481