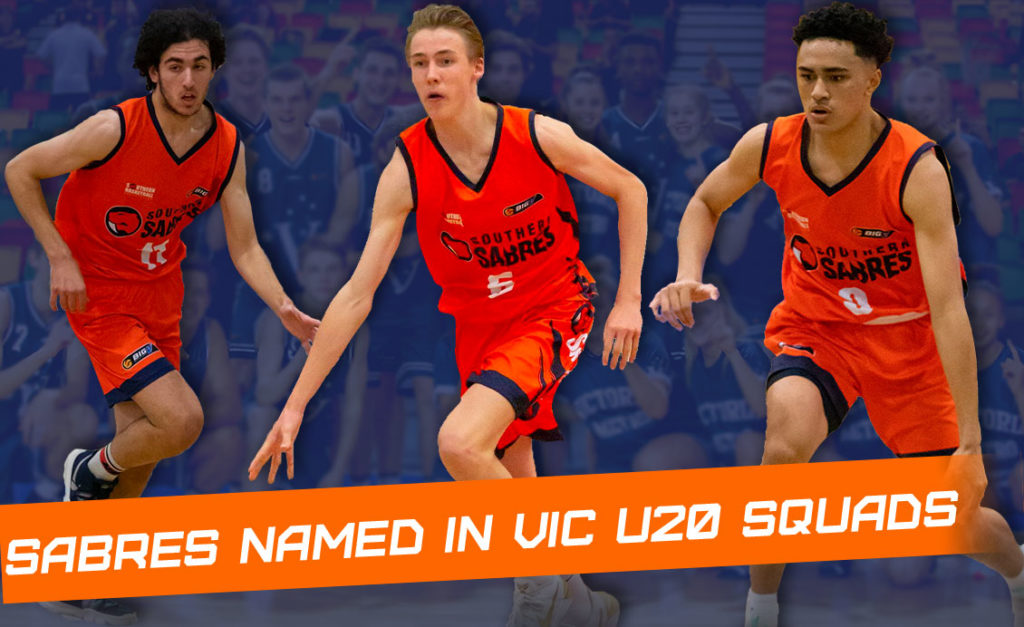 THREE SABRES TO REPRESENT VICTORIA AT U20 NATIONALS
Congratulations to three of our Sabres, who have been selected to represent Victoria at next February's Under-20 and Ivor Burge Nationals taking place at Basketball Australia's Centre of Excellence in February 2020.
Veterans of the Victorian jersey, Sam Taulapiu and Tyrone Simos-Primerano will pull on the jersey once again. Joining them is Kinglsey Box, who has been selected for his first Nationals tournament.
Joining them is 2019 NBL1 Men Head Coach Nathan Cooper-Brown, who will take charge of the U20A Men.
Taulapiu will travel to Canberra for his fifth go around in the blue and white. Averaging 5.7 points, 2 rebounds and 1.4 assists, he aided the Vics to a gold medal. He consolidated that with a massive year in our VYC squad, with outputs of more than 12 points and 4 rebounds a game.
Simos – Primerano first represented Victoria at the 2019 U20 championships as part of the U20A squad, and took that confidence into his VYC season. Averaging around 14 points, he earned a call-up and made his debut in our NBL1 team on 4 May against Melbourne.
Kingsley Box's 2019 left coaches with no choice but to select him to represent Victoria at next year's National Championships. He started his VYC season with a 30 point output against Hawthorn, followed by a 25 point game the following week. He was quickly promoted to the NBL1 squad and forced to play a massive role in the face of an injury crisis. He fit in perfectly, highlighted by a stunning 33 point game (including 7 threes) against eventual-champions Nunawading.
via Basketball Victoria
BASKETBALL Victoria is excited to announce the 2020 Victorian Under-20 and Ivor Burge teams competing at the Australian Junior Championships.
Heading to the Australian Institute of Sport, Canberra, from 5-9 February 2020, the best Victorian players will take on the rest of the nation in the first national competition of the new year.
Basketball Victoria has selected two Under-20 A teams for 2020 – providing another 20 elite playing opportunities for Victorians to participate on the national stage.
Victoria came away from the 2019 Australian Under-20 and Ivor Burge Championships with a pair of gold medals (Under-20 Men and Under-20 Women) and two silver medals (Ivor Burge Men and Ivor Burge Women) at Canberra.
"It's a great time of year when see the newest group of Victorian athletes selected to represent our state at the Australian Junior Championships," Basketball Victoria's Basketball Operations Manager Grant Wallace said. "We have had incredible success at this tournament in recent years and hope to continue this in 2020 with our six sides in the Under-20 and Ivor Burge tournaments.
"We're also excited to have a pair of all-female coaching staff in place for our Under-20 Women's teams – as Basketball Victoria believes in creating elite opportunities for women through both our playing and coaching groups."
Across the board Victorian teams excelled in 2019 with our Victoria and Victoria Metropolitan teams winning six of the nine championships, including both Under-20, Under-18 and Under-16 championships.
VICTORIA UNDER-20 MEN
Victoria's Under-20 Men features a number of up-and-coming stars throughout the roster as the returning stars and fresh faces have made for an exciting team.
Featuring four Centre of Excellence athletes – Wil Tattersall, Josh Giddey, Patrick Ryan and Josh Bannan – the Victorian Under-20 Men's team comes into this championships with big expectations.
Chris Anstey, returning for his third Under-20 campaign as head coach following tournament gold medals in Gosford 2018 and Canberra 2019, is excited to see the next generation of Under-20 Men to make their mark on the tournament.
"I'm excited to be part of the Victorian Under-20 Men's team again," Anstey said. "We'll be very versatile, certainly have some length across all positions and I think we will be looking to attack and be disruptive on both ends of the floor.
"There were a lot of players who were genuinely in contention for making this team – which is a credit to a lot of different associations around the state, so the spread of talent I think is great.
"It will be tough – we go in as defending champions but we have a few returning players and we'll need to better again than what we were last year."
VICTORIA UNDER-20 MEN – TEAM LIST
NAME – ASSOCIATION 
Joe Mutimer (Nunawading)
Wil Tattersall (Melbourne/COE)
Sam Taulapiu (Sandringham)
Zac Triplett (Keilor)
Josh Bannan (Blackburn/COE)
Patrick Ryan (Phillip Island/COE)
Josh Giddey (Melbourne/COE)
Tyrone Simos-Primerano (Sandringham)
Kobe Williamson (Dandenong)
Paul Tsapatolis (Keilor)
EMERGENCIES
Roosevelt Williams (Kilsyth)
Kingsley Box (Southern Basketball)
Leyi Adebayo (Dandenong)
David Okwera (Kilsyth)
Brody Nunn (Hawthorn)
Luke Rosendale (Kilsyth/Echuca)
COACHING STAFF
HEAD COACH
Chris Anstey (Dandenong)
ASSISTANT COACHES
Matt Nunn (Hawthorn)
Liam Glascott (Keilor)
TEAM MANAGER
David Ingham (Knox)
VICTORIA UNDER-20 A MEN
Selecting an exciting group of first-time and bottom-age athletes to represent Victoria, Victoria Under-20 A Men's coach Nathan Cooper-Brown said the team will be built on excitement and playing unselfish basketball.
"In 2020 the Victorian A Team has been assembled with a number of exciting athletic talents," Cooper-Brown said. "It has also filled the criteria of providing opportunities for young Victorian basketballers with the honour of representing their state for the first time – the team's inexperience will be countered by its passion and individual potential.
"The team will adopt a style of play focused on playing fast, having fun, and being unselfish. We feel this group has options with genuine positional players combined with guys that will be able to swing into different spots giving us variety, and hopefully meaning more difficult to scout.
"We look forward to tapping into the plethora of talent, athleticism, and desire, to make this group's basketball experience one for them to remember.
"Congratulations to all our athletes on their selection, and a huge thank you to my staff Ash Arnott, Andrew Cutler, Neil Mottram and Ryan Hobbs for giving up their time."
VICTORIA UNDER-20 A MEN – TEAM LIST
NAME – ASSOCIATION
Roosevelt Williams (Kilsyth)
Brody Nunn (Diamond Valley)
Kingsley Box (Sandringham)
Kai Daniels (Bendigo)
Luke Rosendale (Kilsyth/Echuca)
Hamish McDonald (Kilsyth)
Keith Robinson (Phillip Island)
Mitch Golden (Nunawading)
Ellis Bigger (Camberwell)
David Okwera (Kilsyth)
EMERGENCY
Zak Cunningham (Eltham)
COACHING STAFF
HEAD COACH
Nathan Cooper-Brown (Basketball Victoria)
ASSISTANT COACHES
Ash Arnott (Basketball Victoria)
Andrew Cutler (Nunawading)
TEAM MANAGER
Neil Mottram (Basketball Victoria)